From our Bloggers
Control your finances while traveling
By Karan Kapoor
In this article, we will provide a few banking advice for travellers. There are cases worldwide of travellers being robbed and pickpocketed, or making mistakes of forgetting or dropping their funds.
Travelling is essential, and it is a way people escape their reality and take a break from their daily routine to rejuvenate themselves. Travelling is also a way to learn about new things, new cultures. If you want to learn about a place, rather than reading about it, go there and experience it. Experiencing new places and adventures makes life more amazing.
Every working-class person waits for that few days off, where they can plan a holiday to enjoy and refresh themselves for the upcoming days. They save their hard-earned money to spend it on making memories and new endeavours.
Think if you plan your holiday, and your money gets stolen, or you face issues regarding your banks or your debit cards or credit cards. You are falling short of finances and did not plan the right way.
Travellers need to be ready for anything, any new place, it has different people, new surroundings, anything can happen, you might feel trapped, or the refreshing experience can turn into a nightmare if you do not properly manage your finances and banks for a holiday.
The Basic pointers each traveller should keep in mind.
Every traveller should check his belongings first, especially their essentials, wallets, cards, cash. Get a credit card if you do not have one.
Never sign in your account through a public Wi-Fi.
The public Wi-Fi is never safe. The hotels do not pay attention to their internet security. It is advisable not to use public Wi-Fi to make any transactions or even check your transactions.
Rather than online statements, track your transactions through text alerts. Add a person who is home to the alerts, so if there is a problem, you can be tracked.
Travelling is important, and it makes us more aware of our surroundings. In a new place, a person is more secure and vigilant than in a city where he/she lives. It adds up to the mental level of a person. It makes a person extra vigilant, and if a person is habitual of travel, either they get comfortable anywhere, or they become vigilant everywhere.
The following are a few banking advice every traveller should follow.
The introduction of plastic money and digital transactions has made banking easy if we go to a whole new country. The forex cards and multinational banks have made things easy.
Yet the travellers should follow this advice to be more secure and independent(financially) while travelling.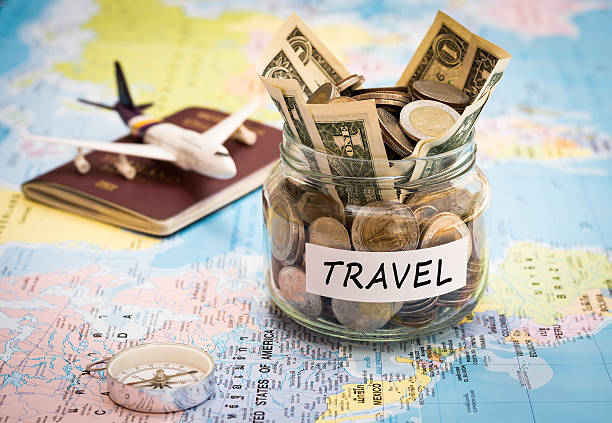 Planning a holiday, or even a vacation takes weeks of planning. Make your travel a goal, and when you will save for it and make it happen, a vacation that you enjoyed will also feel like an accomplishment. To accomplish these travel goals, you should make a travel fund, where you save some part of your income for travel.
This Travel Fund should be formed based on -
- Your destination (ticketing, base living cost)
- All the activities and adventures
- Type of trip (Backpacker, vagabond, leisure, adventure, luxury)
If you inform your bank regarding your travel days, your bank will be ready for foreign transactions, and will not block the card thinking it as fraudulent transactions.
Use Credit. Card over Debit Card
While using a Debit Card it is mandatory to put your pin in credit cards that are not necessary, and a swipe will do the trick. In the current scenario, the tap machines are rising, so debit cards also do not require pins.
Use RFID blocking wallets or card pouches.
The Radio-Frequency Identification, those pouches cancels the signals that the tap cards emit. The tap cards only require to show the card on the machine while making a purchase; some people can use it for theft like if the card is in your wallet and someone puts an amount in the machine and takes it near your card, it will make the transaction. To stay safe from such fraud use RFID blockers.
Keep the daily withdraw and purchase limit lower.
Low purchase limits and withdrawal will keep your money safe, and you will be safe. Safety is key. Too much money attracts fraud.
There are credit cards with amazing benefits, especially for travellers. They have options for miles and many cashback facilities. These cards are specially designated for travel needs and provide easy access to foreign currency.
If you are using cash, use these forex options
Keep an eye on your money.
Card and cash, there is an easy chance that you might lose them, so always keep an eye on the money.
Disasters do not come with warnings. To be secure and safe, keep a back-up account for all the travel needs so that if your cards are lost, you can quickly transfer the money electronically to the back-up account.
Check the machines for additional cameras, faulty transcriptions, and errors. Sometimes such machines can eat the card without any warning, and you will feel stranded in an unknown land.
Keep a dummy wallet for safety
A dummy wallet will help you in case you need to prevent yourself from being a pickpocketed. It is essential to have it while travelling. It should have a worn-out look, your picture, a fake or local card, a deactivated bank card, your cash receipts. It will allow your decoy wallet to not look like a decoy.
Banks charge ATM fees on every transaction, for that the easiest way is to choose a bank that has no ATM fee or make a travel credit card that does not have an ATM fee.
Set a daily transaction limit
If you have a daily transaction limit set, your bank is informed that if the transactions exceed the limit, they can block the card. It is best for not spending a lot and safety from theft.
Travelling is fun, but it is also important to be responsible for your finances while having a good time. The finances will add up to happiness, and you will enjoy it even more.